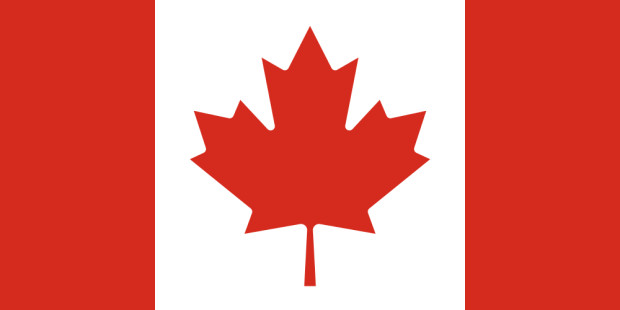 Aspect ratio:
1:2
Vexillological symbol:
National flag on land, merchant and service flag at sea
Country:
Capital:
Ottawa
Size:
9.970.610 km²
Population:
32.507.874
Continent:
North America, Central America
Languages:
English, French
Currency:
Canadian dollar (CAD)
accepted at:
14.02.1965
Top sellers from our flag shop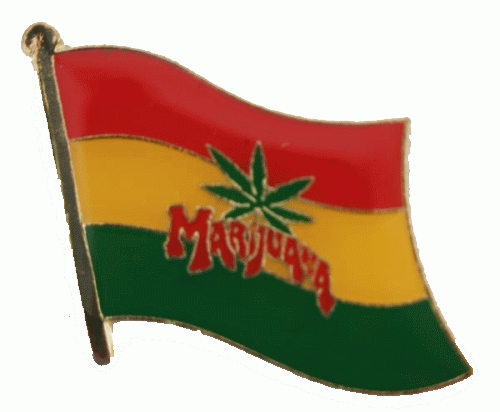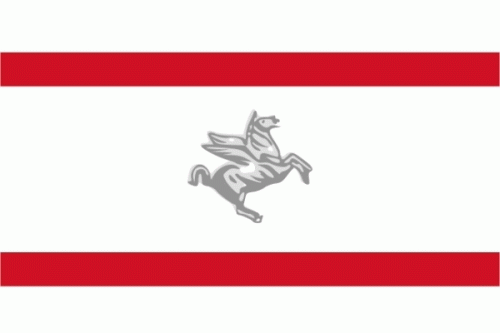 Flag graphics are welcome. But please provide a link to www.flags-and-anthems.com as the source.
Background knowledge
The national flag is described as "a red maple leaf on a silver Canadian stake, with supported Red" is the white pile a square central band in the three-lane flag, the adjacent red stripes are exactly half the width of the white box. Therefore, in the Canadian flag not to speak of a red-white-red tricolor. The width of the flag is twice the height.
On the white box, 11-jagged, red sugar maple leaf is depicted. The eleven points of the maple leaf do not match the original in nature, which has 23 teeth. Nevertheless, the number has no special symbolic meaning, it is not so for the number of provinces and all the territories such as the Commonwealth star on the flag of Australia. On some early examples of the Canadian flag maple leaves were imaged with 13 or 15 points. Using today's form has been determined by different design options were tested in a wind tunnel to determine which option looks in strong winds most aesthetically.
The two red areas on the left and right respectively symbolize the Pacific and Atlantic oceans. The color white symbolizes the arctic snow. Red should also remember the fallen Canadian soldiers in the First World War - Canadian Red is much older and is derived from the British Red Ensign of the 17th Century from.
Three vertical stripes (red, white, red) with a red maple leaf on the white stripe.
Hymn
Composer:
Calixa Lavallée
Songwriter:
Adolphe-Basile Routhier (französisch), Robert Stanley Weir (englisch)
Songtext:
O Canada (Ô Canada) ist die kanadische Nationalfhmyne:
Englisch:

O Canada! Our home and native land!
True patriot love in all of us command.
With glowing hearts we see thee rise,
The True North strong and free!
From far and wide, O Canada,
We stand on guard for thee.
God keep our land glorious and free!
O Canada, we stand on guard for thee.
O Canada, we stand on guard for thee.
Übersetzung:

O Kanada! Unser Heim und Geburtsland!
Erwecke wahre Vaterlandsliebe in uns allen.
Glühenden Herzens sehen wir dich wachsen,
den wahren Norden, stark und frei!
Von fern und weit, O Kanada,
stehen wir wachsam für dich.
Gott erhalte unser Land glorreich und frei!
O Kanada, wir stehen wachsam für dich.
O Kanada, wir stehen wachsam für dich.
Französisch:

Ô Canada! Terre de nos aïeux,
Ton front est ceint de fleurons glorieux!
Car ton bras sait porter l'épée,
Il sait porter la croix;
Ton histoire est une épopée
Des plus brillants exploits.
Et ta valeur de foi trempée
Protégera nos foyers et nos droits;
Protégera nos foyers et nos droits.
Übersetzung:

O Kanada! Heimat unserer Vorfahren,
Deine Stirn ist mit glorreichen Blüten umkränzt.
Denn dein Arm kann das Schwert führen,
Er kann auch das Kreuz tragen.
Deine Geschichte ist ein Epos
Der außergewöhnlichsten Leistungen.
Und deine Kühnheit, im Glauben getränkt,
wird schützen unser Heim und unser Recht.
wird schützen unser Heim und unser Recht.
Inuktitut:

ᐆ ᑲᓇᑕ! ᓇᖕᒥᓂ ᓄᓇᕗᑦ!
ᐱᖁᔭᑏ ᓇᓚᑦᑎᐊᖅᐸᕗᑦ.
ᐊᖏᒡᓕᕙᓪᓕᐊᔪᑎ,
ᓴᙱᔪᓗᑎᓪᓗ.
ᓇᖏᖅᐳᒍ, ᐆ ᑲᓇᑕ,
ᒥᐊᓂᕆᑉᓗᑎ.
ᐆ ᑲᓇᑕ! ᓄᓇᑦᓯᐊ!
ᓇᖏᖅᐳᒍ ᒥᐊᓂᕆᑉᓗᑎ,
ᐆ ᑲᓇᑕ, ᓴᓚᒋᔭᐅᖁᓇ!
Uu Kanata! nangmini nunavut!
Piqujatii nalattiaqpavut.
Angiglivalliajuti,
Sanngijulutillu.
Nangiqpugu, Uu Kanata,
Mianiripluti.
Uu Kanata! nunatsia!
Nangiqpugu mianiripluti,
Uu Kanata, salagijauquna!

Canadian flag color codes
HEX

#D80621

RGB

216, 6, 33

CMYK

0, 97, 85, 15

RAL

3028

Pantone

032
HEX

#FFFFFF

RGB

255, 255, 255

CMYK

0, 0, 0, 0

RAL

9010
Discover something new
Random flags from our large flag database.