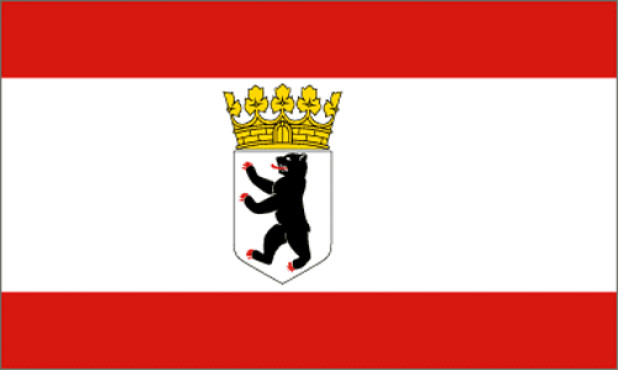 Aspect ratio:
3:5
Country:
State:
Berlin
Top sellers from our flag shop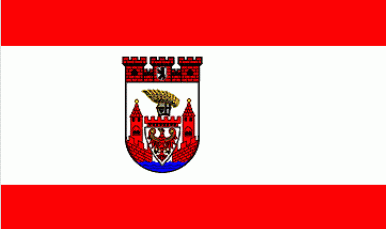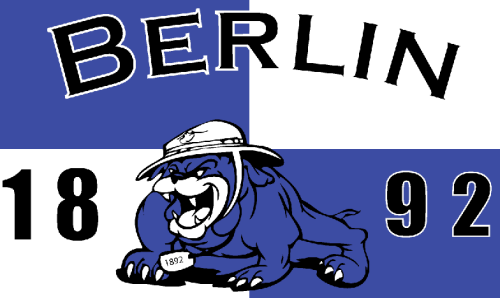 Flag graphics are welcome. But please provide a link to www.flags-and-anthems.com as the source.
Background knowledge
The flag of Berlin with the colors white and red shows the Berlin bear. It is managed with minor stylistic changes since 1911, Berlin 1913 and flew for the first time on the Red Town Hall.
According to the constitution of Berlin Berlin leads the flag with the colors of white and red and the bears. [1] is the ratio of width to length 3:5. The country's flag is divided into three vertical stripes. The two outer strips in red have one fifth of the width of the flag. The central white stripe has three fifths of the flag width. Inside there is the coat of arms figure that is slightly shifted to the bar. The coat of arms shows, without a shield framing is an upright-looking and left black bear with red claws and tongue. [2]
The bear is the heraldic animal of Berlin and appeared for the first time in 1280 on a seal of Berlin. Before the bear was the sole symbol but he had to prevail over several centuries against the Brandenburg eagle. The colors red and white symbolize the one hand the situation of Berlin in Brandenburg and the other the historical connection with Brandenburg, whose colors are red and white. Until April 1881, Berlin was part of the then province of Brandenburg.
The Berlin flag is white, with two narrow horizontal stripes on the upper and lower sides. In the center, the coat of arms is the Berlin bear with a crown.
Meaning
The Berlin flag is derived from the Brandenburg flag, only the coat of arms with the bear and the crown were added.
Discover something new
Random flags from our large flag database.