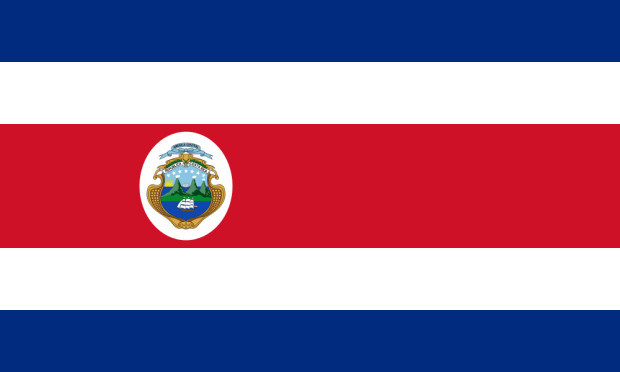 Aspect ratio:
3:5
Vexillological symbol:
Civil flag and official flag ashore, merchant and official flag at sea
Country:
Capital:
San José
Size:
51.100 km²
Population:
3.956.507
Continent:
North America, Central America
Languages:
Spanish
Currency:
Costa Rica Colon (CRC)
accepted at:
04.05.1998
Top sellers from our flag shop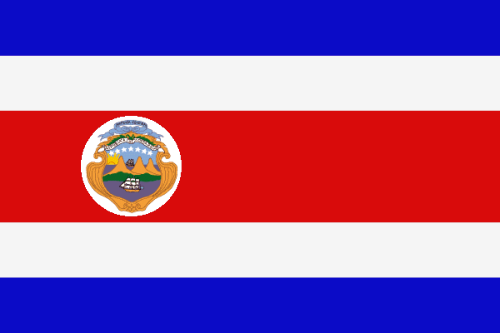 Flag graphics are welcome. But please provide a link to www.flags-and-anthems.com as the source.
Background knowledge
The national flag of Costa Rica is based on a design from 1848 and consists of two blue stripes, two white stripes and a central red stripe that is twice as wide as each of the other four. The civil flag omits the coat of arms of the state flag , as the state version may only be used by the government.
The flag was officially adopted on September 29, 1848, with the only changes since then being the placement and design of the entrenched coat of arms on the state flag. The state variant of the flag has been updated to reflect concurrent changes to the state coat of arms in 1906, 1964, and 1998.
Text courtesy of Flaggenlexikon.de
Five horizontal stripes (blue, white, red (double width), white, blue); the national coat of arms is in a white ellipse on the red area; above it is a ribbon with the inscription "America Central"; above the coat of arms is another ribbon in white with the words "Republica Costa Rica".
Meaning
The colors of the flag share the ideals of the French Revolution of 1848: liberty, equality and fraternity.
Blue means the sky, achievable possibilities, intellectual thinking, perseverance to reach a goal, infinity, eternity and ideals of religious and spiritual desires.
White means clear thinking, happiness, wisdom, power and beauty of the sky, the driving force of initiatives to seek new aspirations and the peace of Costa Rica.
Red means "civilization of the century" and the sun casts on Costa Rica the "first rays of its true independence", the warmth of the Costa Rican people, their love of life, their bloodshed for freedom and their generous attitude.
The seven stars in the coat of arms represent the seven provinces of the Republic.
Hymn
Composer:
Manuel María Gutiérrez
Songwriter:
José María Zeledón Brenes
Costarican flag color codes
HEX

#00205B

RGB

0, 32, 91

CMYK

100, 78, 0, 57

RAL

5026

Pantone

281
HEX

#FFFFFF

RGB

255, 255, 255

CMYK

0, 0, 0, 0

RAL

9010

Pantone

n/a
HEX

#EF3340

RGB

239, 51, 64

CMYK

0, 90, 76, 0

RAL

3024

Pantone

3024
Discover something new
Random flags from our large flag database.