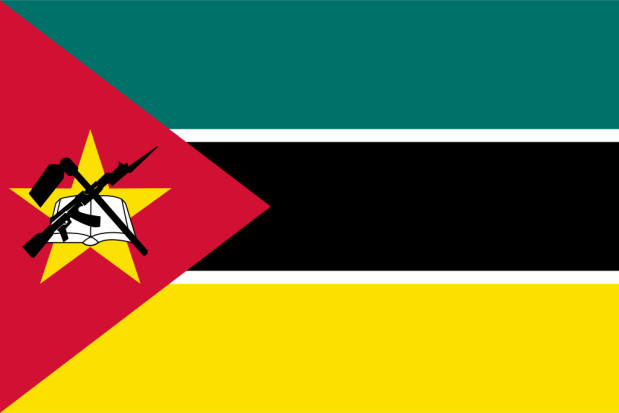 Aspect ratio:
ca. 2:3
Vexillological symbol:
National flag on land and sea
Country:
Capital:
Maputo
Size:
801.600 km²
Population:
18.811.731
Continent:
Africa
Languages:
Portuguese as official language and lingua franca, besides more than 20 African languages
Currency:
Metical (MZM)
accepted at:
30.04.1983
Flag graphics are welcome. But please provide a link to www.flags-and-anthems.com as the source.
Three equal horizontal stripes (green, black, yellow) with a red equilateral triangle on the side of the flagpole; the black stripe is outlined in white; in the center of the triangle is a yellow five-pointed star and an open white book, an AK-47 Kalashnikov and a hoe.
Hymn
Composer:
unbekannt
Songwriter:
Salomão J. Manhiça
Discover something new
Random flags from our large flag database.