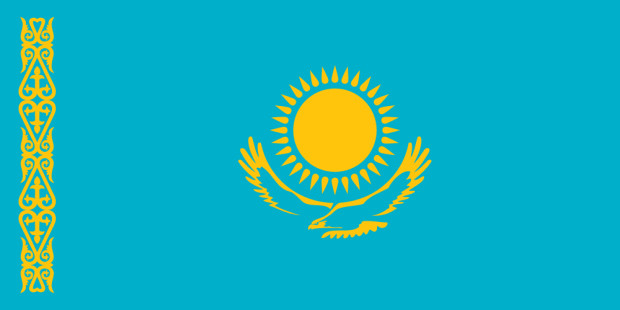 Aspect ratio:
1:2
Vexillological symbol:
National flag on land and merchant flag on sea
Country:
Capital:
Astana
Size:
2.717.300 km²
Population:
15.143.704
Continent:
Asia
Languages:
Kazakh (state language), Russian (official language at authorities)
Currency:
Tenge (KZT)
accepted at:
03.06.1992
Flag graphics are welcome. But please provide a link to www.flags-and-anthems.com as the source.
Text courtesy of Flaggenlexikon.de
Sky blue background and a golden sun with 32 rays shining above a golden steppe eagle in the center of the flag; on the side of the flagpole is a national ornament in gold.
Meaning
Blue symbolizes the endless sky under which the people of Kazakhstan unite in the spirit of peace, tranquility and health. Sovereignly hovers a golden steppe eagle (called Berkut) under a golden sun in the center of the flag. It symbolizes freedom, love and hoped-for prosperity of all aspirations of the people of Kazakhstan. On the left side of the flag there is (vertically arranged) a complex ornamental band (a design element which is also somewhat reminiscent of the flag of Turkmenistan).
Hymn
Composer:
Шәмші Қалдаяқов (Shamshi Kaldayakov)
Songwriter:
Жұмекен Нәжімеденов (Zhumeken Nazhimedenov), Нұрсұлтан Назарбаев (Nursultan Nazarbayev)
Discover something new
Random flags from our large flag database.