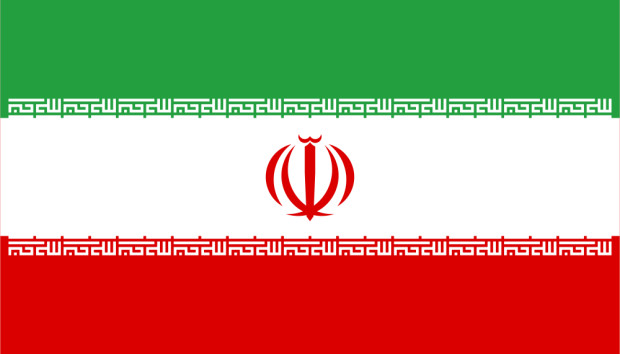 Aspect ratio:
4:7
Vexillological symbol:
National flag on land and sea
Country:
Capital:
Tehran
Size:
1.648.000 km²
Population:
69.018.924
Continent:
Asia
Languages:
Official language Farsi (Persian), besides Turkic languages, Kurdish, Arabic, Baluchi and others are spoken.
Currency:
Iranian rial (IRR)
accepted at:
28.07.1980
Top sellers from our flag shop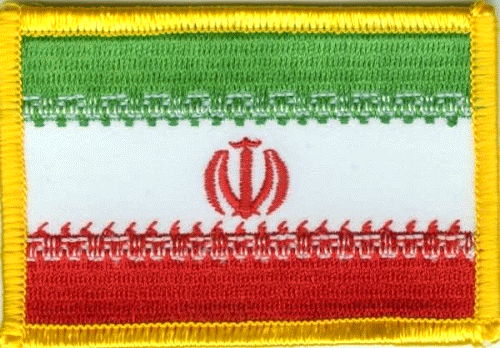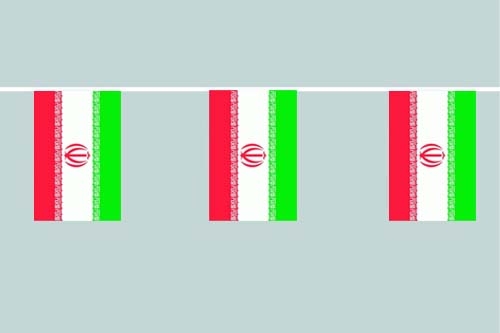 Flag graphics are welcome. But please provide a link to www.flags-and-anthems.com as the source.
Background knowledge
The flag of Iran has been in its current form since July 29, 1980, reflecting the changes Iran has undergone since the Islamic Revolution.
The flag consists of three equal horizontal stripes: green at the top, white in the middle and red at the bottom. Green symbolizes Islam, white peace and friendship and courage, and red the blood spilled in war. The colors have a long tradition in Persia, which can be traced back at least to the 18th century. Tricolor as they are found for the first time on the national flag of 1906.
In its center is the emblem of Iran. It has a diameter equal to one seventh of the length of the flag. In addition, 22 (2 × 11) Kufic inscriptions of Allahu Akbar (German: Gott ist am größten) were added to the green and red stripes. This is an allusion to the beginning of the Islamic Revolution on the 22nd day of the 11th month in the Iranian calendar (February 11, 1979).
Text courtesy of Flaggenlexikon.de
Three equal horizontal stripes (green, white and red); the national emblem is centered on the white stripe; Arabic inscriptions can be seen.
Meaning
The flag colors green, white, red originate from the 18th century. There are several interpretations or the interpretation of the flag colors is controversial. The emblem consists of four crescent moons, which symbolize the growth of Islam. In the center of the emblem protrudes a sword, which symbolizes strength and bravery. In the lower part of the green stripe and the upper part of the red stripe, the inscription "God is great? and the date of the return of the religious leader Ayatollah Khomeini (1997) are repeated 22 times.
Hymn
Composer:
Hassan Riahi
Songwriter:
collectively
Iranian flag color codes
HEX

#239F40

RGB

35, 159, 64

CMYK

78, 0, 60, 38

RAL

6032

Pantone

335
HEX

#FFFFFF

RGB

255, 255, 255

CMYK

0, 0, 0, 0

RAL

9010
HEX

#DA0000

RGB

218, 0, 0

CMYK

0, 100, 100, 15

RAL

3020

Pantone

186
Discover something new
Random flags from our large flag database.