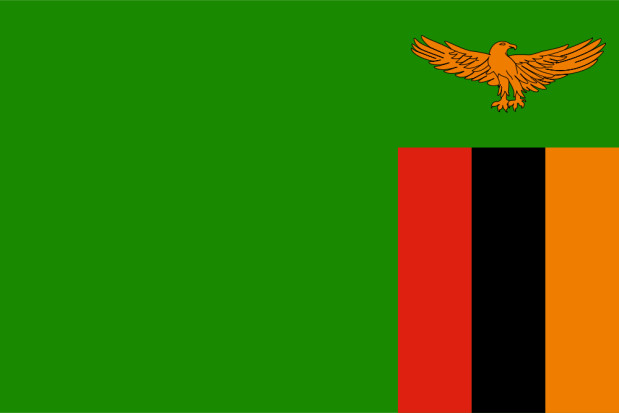 Aspect ratio:
2:3
Vexillological symbol:
National flag on land and sea
Country:
Capital:
Lusaka
Size:
752.614 km²
Population:
10.462.436
Continent:
Africa
Languages:
Official language: English; also 7 officially recognized tribal languages: Bemba (31%), Nyanja (16%), Lozi (9%), Tonga, Lunda, Kaonde, Luvale, and 72 dialects.
Currency:
Zambia Kwacha (ZMK)
accepted at:
23.10.1964
Flag graphics are welcome. But please provide a link to www.flags-and-anthems.com as the source.
Background knowledge
The flag of Zambia was officially adopted on Independence Day, October 24, 1964.
The colors are from the United National Independence Party. They have the following meaning:
* Green represents the fields and forests that occupy the largest area of the national territory  
* Orange symbolizes the mineral resources, especially copper  
* Black is the skin color of the population  
* Red recalls the struggle to achieve freedom  

The African Fish Eagle lives on the Zambezi River, from whose name the name Zambia is derived. It represents the nation's aspiration to higher goals and its ability to overcome problems.
The flag was designed by Mrs Gabriel Ellison, OGDS, MBE.
Source: Wikipedia
Hymn
Composer:
Enoch Mankayi Sontonga
Songwriter:
diverse
Discover something new
Random flags from our large flag database.