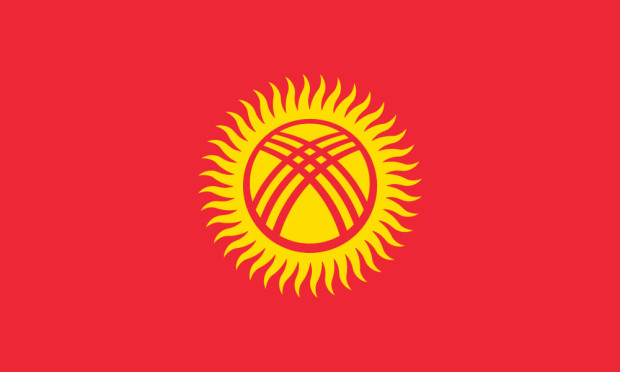 Aspect ratio:
3:5
Vexillological symbol:
National flag on land and merchant flag on sea
Country:
Capital:
Bishkek (formerly Frunse)
Size:
198.500 km²
Population:
5.081.429
Continent:
Asia
Languages:
State language: Kyrgyz; since May 2000 also Russian
Currency:
Kyrgyzstan Som (KGS)
accepted at:
02.03.1992
Flag graphics are welcome. But please provide a link to www.flags-and-anthems.com as the source.
Text courtesy of Flaggenlexikon.de
Red area with a golden yellow sun in the center, which has 40 rays; in the center of the sun is a red ring crossed by two times three lines each.
Meaning
The 40 rays of the sun represent the 40 Kyrgyz heroes (or 40 tribes) once united by the legendary national hero Manas under his red flag. Red symbolizes bravery. In the center of the sun is a so-called tunduk, which is supposed to symbolize the roof of the Father's tent. The dome roof shows the wooden poles of a traditional steppe tent (yurt) of the nomadic tribes of the region.
Hymn
Composer:
Н. Давлесов (Nasyr Davlesov), К. Молдобасанов (Kalyi Moldobasanov)
Songwriter:
Ж. Садыков (Djamil Sadykov), Ш. Кулуев (Eshmambet Kuluev)
Discover something new
Random flags from our large flag database.