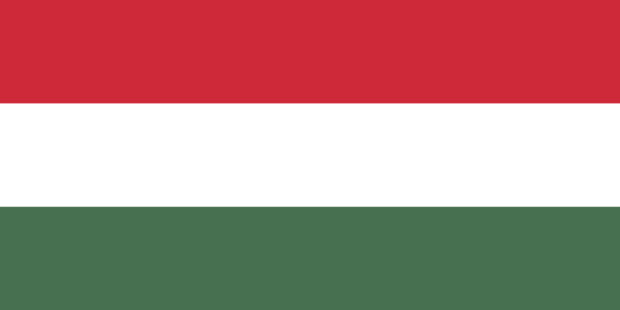 Aspect ratio:
1:2
Vexillological symbol:
Civil flag and service flag ashore
Country:
Capital:
Budapest
Size:
93.000 km²
Population:
10.032.375
Continent:
Europe
Languages:
Hungarian
Currency:
Forint (HUF)
accepted at:
30.09.1957
Flag graphics are welcome. But please provide a link to www.flags-and-anthems.com as the source.
Hymn
Composer:
Ferenc Erkel
Songwriter:
Ferenc Kölcsey
That's what ChatGPT knows about the flag of Hungary
This is what an AI says about the Hungarian flag
The flag of Hungary is a symbol of the country and its history. It is one of the oldest flags in Europe and was first used in 1848. The flag consists of three evenly vertical stripes in red, white and green, symbolizing the Hungarian revolution against the Habsburg monarchy.
This is what an AI knows about the history of the Hungarian flag
The Hungarian national flag was introduced in 1848. It consists of the colors red, white and green and symbolizes the freedom and unity of the country. The flag has a white center with a red stripe above and a green stripe below.
This is how an AI describes the Hungarian flag
The national flag of Hungary is red-white-green. It consists of three horizontal stripes of equal size, the upper stripe being red, the middle white and the lower green. In the center of the flag there is a white triangle decorated with a red-green double-headed eagle. The eagle represents a symbol of freedom and independence of the country.
Discover something new
Random flags from our large flag database.