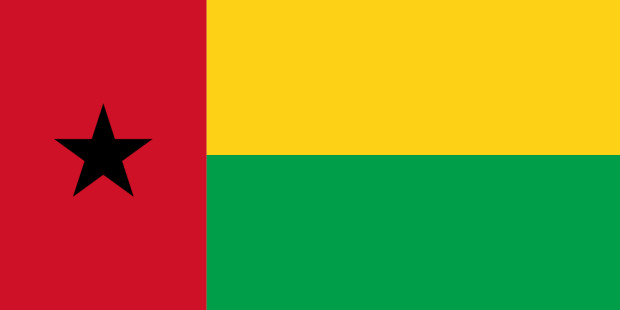 Aspect ratio:
1:2
Vexillological symbol:
National flag on land and sea
Country:
Capital:
Bissau
Size:
36.125 km²
Population:
1.388.363
Continent:
Africa
Languages:
Official language: Portuguese; Colloquial language: Creolo (Creole language)
Currency:
Communaute Financiere Africaine Franc (XOF)
accepted at:
23.09.1973
Flag graphics are welcome. But please provide a link to www.flags-and-anthems.com as the source.
Text courtesy of Flaggenlexikon.de
Two equal stripes (yellow, green) with a vertical stripe on the side of the flagpole; in it is a black five-pointed star; the popular pan-African colors are used.
Hymn
Composer:
Amilcar Lopes Cabral
Songwriter:
Xiao He
Discover something new
Random flags from our large flag database.