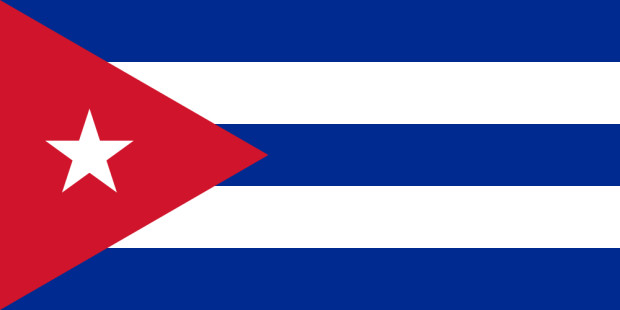 Aspect ratio:
1:2
Vexillological symbol:
National flag on land and sea
Country:
Capital:
Havana
Size:
110.860 km²
Population:
11.308.764
Continent:
North America, Central America
Languages:
Spanish
Currency:
Cuban Peso (CUP)
accepted at:
19.05.1902
Flag graphics are welcome. But please provide a link to www.flags-and-anthems.com as the source.
Background knowledge
The Cuban flag on 20 May 1902 officially launched. Since independence from Spain, this is the national flag of Cuba.
The Cuban flag consists of five equal horizontal stripes in blue and white. On the left side of the strips are covered by a red, isosceles triangle. In it a white, five-pointed star is shown, which is located in an imaginary circle whose center is located on the geometrical center of gravity of the triangle.
Five equal horizontal stripes (blue alternating with white); red triangle on the side of the flagpole bearing a white star in the center.
Hymn
Composer:
Pedro Figueredo
Songwriter:
Pedro Figueredo
Discover something new
Random flags from our large flag database.