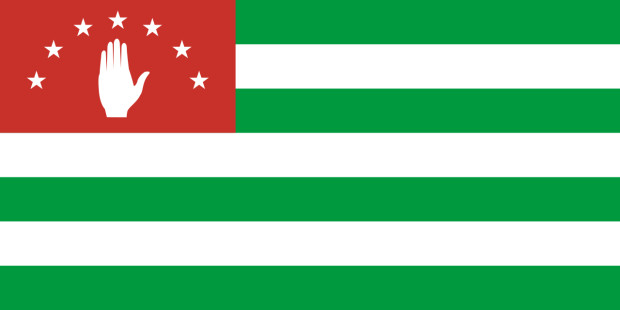 Aspect ratio:
1:2
Vexillological symbol:
National flag on land
Country:
Capital:
Sochumi
Population:
240.705
Continent:
Asia
Languages:
Abkhazian and Russian
Currency:
RUB or Achaic Apsar
accepted at:
22.07.1992
Flag graphics are welcome. But please provide a link to www.flags-and-anthems.com as the source.
Background knowledge
Horizontally, four green and three white stripes are arranged one below the other. In the upper left corner there is a red canton with a white hand around which seven white, five-pointed stars are arranged in a semicircle. The stars all point with one tip upwards.
The symbol of the hand on a red background is based on a historical flag of Sebastopol, today's capital Sochumi. The open hand now stands for the Abkhazian nation. The seven stars represent the seven regions of the country: Sadzen, Bzyp, Gumaa, Abzhywa, Samurzaqan, Dal-Tsabal and Pskhuy-Aibga. Seven is considered a sacred number in Abkhazia, hence seven stripes, with the alternation between green and white representing tolerance between Islam and Christianity.
Source: Wikipedia
Hymn
Composer:
Walera Schkaduwa
Songwriter:
Gennadi Alamija
Songtext:
| | |
| --- | |
| Abkhazian | Latin transliteration |
| Шәнеибац, шәнеиба
ц,Аҧсуаа рыҷкәынцәа.
Аҧсны азыҳәанАшьа
казҭәаз
,Аҧсуаа рыҷкәынцәа.

АхақәиҭразАшьа казҭәаз
,Аҧсуаа рыҷкәынцәа.

О-ҳо-ҳо-о ҳо-РадаО-ҳо-о
ҳо-о-Рада-Ра!
Ажәҩан мрадоуп, еҵәадоупУара
уда Аҧсынра!
Еҵәa-бырлаш
Аҧсынтәла,Улҧха згәаҵақәа
ирҭыҧхо,Геи-шьхеи рыҧшӡара заҧшнылаз.


Жәлар ламысла иҳаракоит.

Рада, Реида, РарираРада
, Рерама, Рерашьа.
Нарҭаа риира-зиироуАфырхацәа
Ран-ГуашьаАҧсынтәыла-иҧшьоч

атәылаЗхы здиныҳәалаз
АнцәаЗқьышықәасала
имҩасхьо гылоупРыжәаҩа еибырҭоит уҧацәа.

Шәнеибац Аҧсныжәлар!
Аишьцәа, шәнеибац!
Нхыҵ-аахыҵ ҳаицуп!
Ҳазшаз илаҧшҲхыуп

иаҳхымшәоҦеҧш лаша ҳзышуп!

Шәнеибац,
Аҧсныжәлар,Игылеит ҳамра
,Иақәым ҭашәара!
Урылагәыргьа
,Анра-аҳшараШьардаамҭа
, Аҧсынра. | Šwneibac, šwneibac,
Aṕsuaa ryçkwyncwa.
Aṕsny azyḩa̋anAš
'a kazţwaz,
Aṕsuaa ryçkwyncwa.


AhaķwiţrazAš
'a kazţwaz,
Aṕsuaa ryçkwyncwa.



O-ḩo-ḩo-o ḩo-o-RadaO-ḩo-ḩo-o
ḩo-o-Rada-Ra!
Ažwòan mradoup, eċwadoupUara
uda Aṕsynra!
Eċwa-byrlaš Aṕsyntwla,
Ulṕha zgwaċaķwa irţyṕho,
Gei-šˊhei ryṕšźara zaṕšnylaz.
Žwlar lamysla iḩarakoit.

Rada, Reida, RariraRada,
Rerama, Rerašˊa.
Narţaa riira-ziirouAfyrhacwa
Ran-GuašˊaAṕsyntwyla-iṕšˊoč
atwylaZhy
zdinyḩwalaz
AncwaZķˊyšyķwasala imòashˊo gyloupRyžwaòa
eibyrţoit uṕacwa.






Šwneibac Aṕsnyža̋lar!
Aiš'cwa, šwneibac!
Nhyċ-aahyċ ḩaicup!
Ḩazšaz ilaṕšḨhyup
iaḩhymšwoṔeṕš
laša ḩzyšup!

Šwneibac, Aṕsnyžwlar,
Igyleit ḩamra,
Iaķwym ţašwara!
Urylagwyrg'a,
Anra-aḩšaraŠ
'ardaamţa, Aṕsynra.

|


Source: Wikipedia
Abchasian flag color codes
HEX

#EE2C3C

RGB

238, 44, 44

CMYK

0, 82, 75, 7
HEX

#32CD32

RGB

50, 205, 50

CMYK

76, 0, 76, 20
HEX

#FFFFFF

RGB

255, 255, 255

CMYK

0, 0, 0, 0

RAL

9010
Discover something new
Random flags from our large flag database.