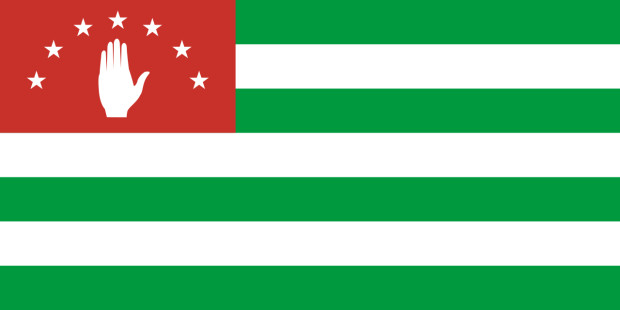 Aspect ratio:
1:2
Vexillological symbol:
National flag on land
Country:
Capital:
Sochumi
Population:
240.705
Continent:
Asia
Languages:
Abkhazian and Russian
Currency:
RUB or Achaic Apsar
accepted at:
22.07.1992
Flag graphics are welcome. But please provide a link to www.flags-and-anthems.com as the source.
Background knowledge
Horizontally, four green and three white stripes are arranged one below the other. In the upper left corner there is a red canton with a white hand around which seven white, five-pointed stars are arranged in a semicircle. The stars all point with one tip upwards.
The symbol of the hand on a red background is based on a historical flag of Sebastopol, today's capital Sochumi. The open hand now stands for the Abkhazian nation. The seven stars represent the seven regions of the country: Sadzen, Bzyp, Gumaa, Abzhywa, Samurzaqan, Dal-Tsabal and Pskhuy-Aibga. Seven is considered a sacred number in Abkhazia, hence seven stripes, with the alternation between green and white representing tolerance between Islam and Christianity.
Source: Wikipedia
Hymn
Composer:
Walera Schkaduwa
Songwriter:
Gennadi Alamija
Songtext:
| | |
| --- | --- |
| Abkhazian | Latin transliteration |
| Шәнеибац, шәнеибац,
Аҧсуаа рыҷкәынцәа.
Аҧсны азыҳәан
Ашьа казҭәаз,
Аҧсуаа рыҷкәынцәа.
Ахақәиҭраз
Ашьа казҭәаз,
Аҧсуаа рыҷкәынцәа.

О-ҳо-ҳо-о ҳо-о-Рада
О-ҳо-о ҳо-о-Рада-Ра!
Ажәҩан мрадоуп, еҵәадоуп
Уара уда Аҧсынра!
Еҵәa-бырлаш Аҧсынтәла,
Улҧха згәаҵақәа ирҭыҧхо,
Геи-шьхеи рыҧшӡара заҧшнылаз.
Жәлар ламысла иҳаракоит.

Рада, Реида, Рарира
Рада, Рерама, Рерашьа.
Нарҭаа риира-зиироу
Афырхацәа Ран-Гуашьа
Аҧсынтәыла-иҧшьоч атәыла
Зхы здиныҳәалаз Анцәа
Зқьышықәасала имҩасхьо гылоуп
Рыжәаҩа еибырҭоит уҧацәа

Шәнеибац Аҧсныжәлар!
Аишьцәа, шәнеибац!
Нхыҵ-аахыҵ ҳаицуп!
Ҳазшаз илаҧш
Ҳхыуп иаҳхымшәо
Ҧеҧш лаша ҳзышуп!

Шәнеибац, Аҧсныжәлар,
Игылеит ҳамра,
Иақәым ҭашәара!
Урылагәыргьа,
Анра-аҳшара
Шьардаамҭа, Аҧсынра. | Šwneibac, šwneibac,
Aṕsuaa ryçkwyncwa.
Aṕsny azyḩa̋an
Aš'a kazţwaz,
Aṕsuaa ryçkwyncwa.
Ahaķwiţraz
Aš'a kazţwaz,
Aṕsuaa ryçkwyncwa.

O-ḩo-ḩo-o ḩo-o-Rada
O-ḩo-ḩo-o ḩo-o-Rada-Ra!
Ažwòan mradoup, eċwadoup
Uara uda Aṕsynra!
Eċwa-byrlaš Aṕsyntwla,
Ulṕha zgwaċaķwa irţyṕho,
Gei-šˊhei ryṕšźara zaṕšnylaz.
Žwlar lamysla iḩarakoit.

Rada, Reida, Rarira
Rada, Rerama, Rerašˊa.
Narţaa riira-ziirou
Afyrhacwa Ran-Guašˊa
Aṕsyntwyla-iṕšˊoč atwyla
Zhy zdinyḩwalaz Ancwa
Zķˊyšyķwasala imòashˊo gyloup
Ryžwaòa eibyrţoit uṕacwa.

Šwneibac Aṕsnyža̋lar!
Aiš'cwa, šwneibac!
Nhyċ-aahyċ ḩaicup!
Ḩazšaz ilaṕš
Ḩhyup iaḩhymšwo
Ṕeṕš laša ḩzyšup!

Šwneibac, Aṕsnyžwlar,
Igyleit ḩamra,
Iaķwym ţašwara!
Urylagwyrg'a,
Anra-
aḩšaraŠ'ardaamţa, Aṕsynra. |
Source: Wikipedia
Abchasian flag color codes
HEX

#EE2C3C

RGB

238, 44, 44

CMYK

0, 82, 75, 7
HEX

#32CD32

RGB

50, 205, 50

CMYK

76, 0, 76, 20
HEX

#FFFFFF

RGB

255, 255, 255

CMYK

0, 0, 0, 0

RAL

9010
That's what ChatGPT knows about the flag of Abkhazia
This is what an AI says about the Abchasian flag
The national flag of Abkhazia is a symbol of the country's independence. It was adopted on February 23, 1992 and is a symbol of the country's unity and its connection with Russia. The flag is a symbol of Abkhazia's support for Russian sovereignty and the unity of the nation.
This is what an AI knows about the history of the Abchasian flag
The national flag of Abkhazia was introduced on October 23, 1992 as a symbol of independence and the right to self-determination. It consists of three evenly spaced horizontal stripes in white, green and red. The white stripe symbolizes Abkhazia's commitment to peace and harmony, the green stripe symbolizes hope for a better future, and the red stripe symbolizes the blood that has been shed for independence.
This is how an AI describes the Abchasian flag
The national flag of Abkhazia is a white rectangle with a red cross in the center. The cross has four arms of equal size and extends to the four corners of the rectangle. The background of the cross is a green square that occupies the center of the rectangle. At the bottom of the rectangle is a black crescent moon.
Discover something new
Random flags from our large flag database.