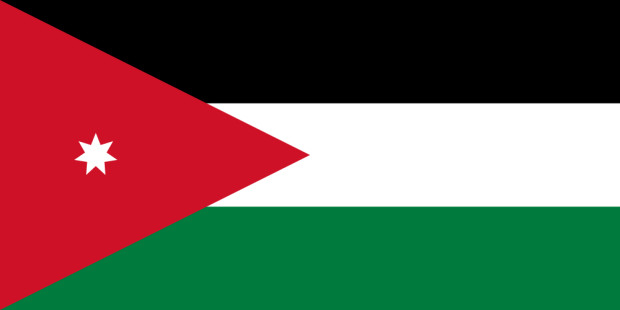 Aspect ratio:
1:2
Vexillological symbol:
Civil flag and official flag ashore, merchant and official flag at sea
Country:
Capital:
Amman
Size:
97.740 km²
Population:
5.611.202
Continent:
Asia
Languages:
Arabic
Currency:
Jordanian dinar (JOD)
accepted at:
15.04.1928
Flag graphics are welcome. But please provide a link to www.flags-and-anthems.com as the source.
Drei gleich große horizontale Streifen (schwarz, weiß, grün) mit einem roten gleichseitigen Dreieck (das für die große arabische Revolution von 1916 steht) an der Seite des Fahnenmasten; dieses trägt einen kleinen weißen siebenstrahligen Stern, der die sieben Verse der sich öffnenden Sura des heiligen Koran symbolisiert; die sieben Strahlen des Sterns stehen somit für den Glauben in einen Gott, Menschlichkeit, Nationalgeist, Bescheidenheit, soziale Gerechtigkeit, Tugend und Streben.
Hymn
Composer:
عبد القادر التنير (Abdul-Qader Al-Taneer)
Songwriter:
عبد المنعم الرفاعي (Abdul-Mone'm Al-Rifai')
Discover something new
Random flags from our large flag database.